Having problems viewing this email? Click here to visit our web page and view the email.


ALOHA,
WE HAVE THE RIGHT TO KNOW
This email message is not about whether you agree genetically modified (GMO) engineered organisms - foodstuffs is good or bad, but rather, simply about letting the consumer know if such modified organisms are in the products we buy and consume. It is called, "The Right to Know."
Here is a video that was sent to me announcing a rally at the State Capitol for February 21 on GMO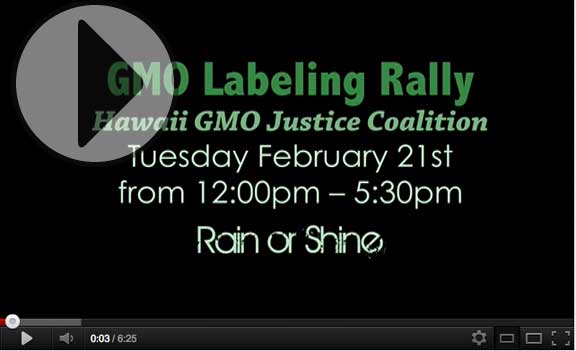 HEAR FOR YOURSELF WHAT THE MEDIA DOES NOT WANT YOU TO KNOW WHEN IT COMES TO OUR RAIL PROJECT
Please note the meetings are free and there is no rsvp required.
NEW BUYERS FOR OUR WEST OAHU HOSPITAL EMERGE
The text of this article was published in the StarAdvertiser yesterday.

2 possible buyers emerge for HMC's Ewa campus
Queen's and Hawaii Pacific Health are interested in buying the defunct Hawaii Medical Centers' Ewa hospital. Hospital executives assembled Tuesday at an informational briefing before the Senate Health Committee to discuss their interest in acquiring facilities closed by the bankrupt HMC.

The briefing also looked at the increase in emergency room visits and admissions at other hospitals since the closure of the HMC hospitals in Liliha and Ewa.

Potential buyers of the hospitals are expecting HMC will return the bankrupt hospitals to their former owner, St. Francis Healthcare System of Hawaii, later this year. A specific date hasn't been determined in U.S. Bankruptcy Court proceedings.

Virginia Pressler, executive vice president of Hawaii Pacific Health, operator of the Kapiolani and Straub hospitals, told lawmakers HPH would immediately reopen the Ewa emergency room to accommodate the needs of the West Oahu community if given the opportunity to purchase the Ewa campus. In addition, HPH would spend at least a year investing $20 million or more in upgrades to the facility. Queen's also expressed interest in the Ewa hospital, previously known as HMC-West. "I'm encouraged that either Queen's or Hawaii Pacific Health will ultimately move to purchase and reopen Hawaii Medical Center, and I have great faith in both institutions," said state Sen. Josh Green, chairman of the Health Committee.

Bruce Anderson, president and CEO of Hawaii Health Systems Corp., said the state community hospital system is pursuing the HMC-East Liliha campus and has had discussions with St. Francis about an affiliation that would allow it to double long-term care capacity by 250 beds.

State Rep. Ryan Yamane introduced last week a proposal that would authorize the quasi-public HHSC to enter into negotiations to bring the HMC-East Liliha campus under its governance "through formal affiliation or acquisition." The cost to convert the Liliha campus into a long-term care and skilled nursing facility hasn't been determined, Anderson said.

Nonetheless, the move would significantly reduce costs to the state's hospital system, which loses roughly $150 million a year as a result of chronically ill patients being inappropriately placed in acute-care hospitals while waiting for long-term care beds to become available.

George Greene, Healthcare Association of Hawaii CEO, told lawmakers, "That loss would shrink significantly as a result of patients being in the proper care setting."

Meanwhile, the closure of HMC has had statewide impact. It has become more difficult to transfer neighbor island patients to Oahu, according to Linda Rosen, the Department of Health's chief of emergency medical services, and virtually all Hono lulu hospitals have seen as much as 30 percent increases in emergency room visits and admissions.