Having problems viewing this email? Click here to visit our web page and view the email.


ALOHA,
RAIL INJUSTICE - COLORING BOOKS OVER CONSTRUCTION WASTE
The Nanakuli community does not get served directly by the rail - but they will get all of the construction waste and debris associated with building it- directly in their backyard. The Honolulu Authority for Rapid Transportation (HART) exclaimed expending funds to promote a coloring book is a justified expense over compensating the Nanakuli community for having to house and store the demolition waste.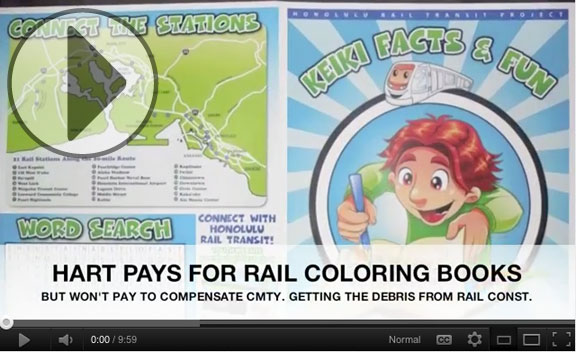 WATCH WHAT HECKLERS AT RAIL MEETING WERE AFRAID OF YOU FINDING OUT: WENDELL COX COMES TO TOWN TO PRESENT FACTS CITY WON'T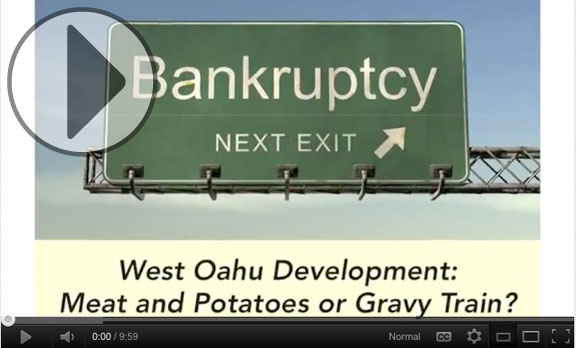 AGENDA FOR THIS WEDNESDAY'S COUNCIL HEARING
Please consider sifting through the items to be heard March 21 starting at 10AM - at Honolulu Hale - click here. The Makaha Bridge Replacement Project; Ahi Fever; Tire Disposal; and, besides ending Board of Water Supply's semi-autonomous role, there are many more important issues on this agenda - but please remember, the resolution to REPEAL HART was not put on this agenda. So please stay tuned for that scenario to play out as the deadline to get a question on the 2012 general election ballot- letting the people decide on issues, is May 24.
MAKAHA BRIDGE REPLACEMENT - TEMPORARY ROAD - NOTICE - PUBLIC HEARING TOMORROW - MARCH 20
APPLICATION: SHORELINE SETBACK
VARIANCE, PROPOSAL: To allow portions of a temporary bypass road, which would be constructed during the replacement of two timber bridges with new concrete bridges, to encroach into the shoreline setback area.

Start Date: March 20; Start Time: 10:30 AM
Location: Frank F. Fasi Municipal Building, 650 South King Street, 8th Floor Conference Room, Honolulu, Hawaii.
Click here to read notice.