Having problems viewing this email? Click here to visit our web page and view the email.


ALOHA,
WHAT IS SO DIFFICULT ABOUT MAINTAINING THE LANDSCAPING ON KAPOLEI PARKWAY?
MARCH 19, 2012
Look at dying trees at end of video . . .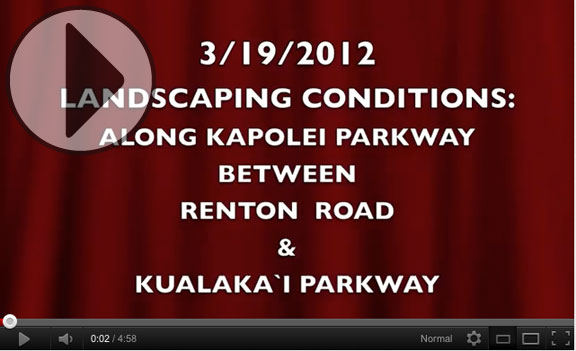 FEBRUARY 2010- KAPOLEI PARKWAY OPENS
In this video- take a look at the healthy trees recently planted - and an irrigation system working that waters grass and trees . . .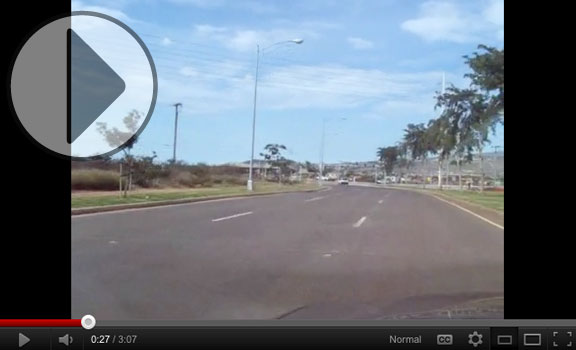 SEPTEMBER 15, 2011
Water truck has to water the trees since right after the road opened; the irrigation system broke down . . . and it hasn't been fixed yet . . .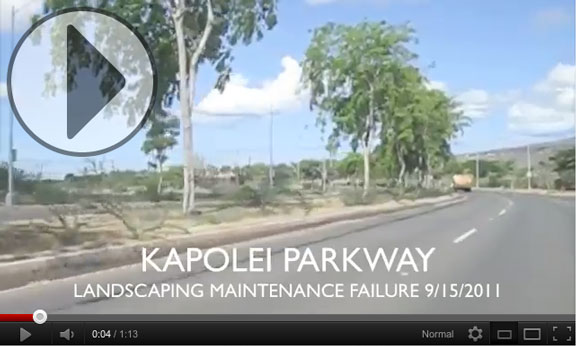 Some email correspondence below enlightening the powers that be that if we cannot even maintain the simple task of keeping an irrigation system working to water the trees and grass that once thrived - what are to we expect from the rail project?
Remember, the train isn't even built yet and we have almost 90 persons thus far hired costing tax payers $22 million a year to basically promote rail propaganda from a downtown air-conditioned office while millions of dollars are being spent to hire non-Hawaii owned businesses to actually build the rail. The Executive Director of the rail project will be making with all the perks- roughly $321k a year while in contrast, no money can be mustered up by the City to remove some weeds and fix a broken irrigation line on a "brand new road."
---- Forwarded Message -----
From: Tom Berg <tomberg00@yahoo.com>
To: wyoshioka@honolulu.gov
Sent: Monday, May 23, 2011 6:32 PM
Subject: Kapolei Parkway Landscaping

Aloha Director Yoshioka-

I could have shown you sections whereby the entire sidewalk is overgrown with weeds - so one cannot even tell there is a sidewalk there....here is just a snippet of the problem from the OR&L Co. railroad tracks at the makai end to the DHHL headquarters along Kapolei Parkway...we are getting slammed with complaints...please assist and champion resolve for us. MAHALO- some photos attached.
Tom Berg
768-5001
753-7324

----- Forwarded Message -----
From: "GM@HawaiiN.com" <GM@HawaiiN.com>
To: mayor@honolulu.gov
Cc: mike@mikegabbard.com; sharon@rephar.com
Sent: Friday, November 12, 2010 1:30 PM
Subject: Kapolei Parkway Looks Like Ghetto Road
Aloha Mayor Carlisle,
Times are tough, we know- but there has been
NO MAINTENANCE on Kapolei Parkway between
Renton Road and N.S. Road intersection for
4-6 months!
All the grass is dead, holes dug and left unfilled,
dirt covering the sidewalks, large thorny trees
covering the sidewalks, etc.--- 4-6 months!!!
The section from Renton to Ewa Gentry is somewhat
better right now, but usually "maintenance" is pretty
poor and grass cutting is done with bulldozer blades
it seems. Who handles these contracts, anyway?
Whoever has these parkway maintenance contracts are
obviously the WORST of the WORST- political insiders
pocketing while our Ewa parks have to be maintained
by civic groups ???
And we are building a big new railway and 6 billion
Sewer system? Can't even do the basic job with what
we have now!
John Bond
Ewa Resident
THREE BILLS FOR RAIL BEING HEARD TOMORROW- MARCH 21 @ 10AM HONOLULU HALE
Bill 31 HERE - This would pay for HART's operating budget for one year. This includes the cost of this huge bureaucracy; 142 people.
Bill 32 HERE - HART's capital improvement budget asks for $491 million to pay for construction of the rail line from the empty fields of "Ho'opili" to Waipahu.
Bill 33 HERE - Provides for selling General Obligation bonds for HART, gutting the Council's previous commitment to NOT float bonds until the City has a final financial agreement with the Federal government.