Having problems viewing this email? Click here to visit our web page and view the email.


ALOHA,
RAIL FINANCING SCHEME FURTHERS THE CON JOB- CAN YOU SPELL RAIL BACKWARDS?
The deal brokered between the city and taxpayer for traffic relief was that in exchange for a 34-mile rail line, we were to pay nothing more over and above the .05 GET surcharge and get a $1.55 billion dollar infusion from the feds to make it happen.
So yesterday, before the full council, the Honolulu Authority for Rapid Transportation (HART) had the nerve to beg for more money- in the form of bonds and a credit line for a 20-mile rail segment.
I voted NO yesterday to each and every one of the four bills that would have the taxpayer feed HART. Unfortunately, the bills still advanced.
Simply put, even if you support rail, it is wrong for me to approve of fronting money to HART with money that does not belong to me- it is your money, your credit at stake, and nothing thus far HART has produced can guarantee you will get paid back.
HART cannot build the rail package as was pitched and sold to the voters that backed this project- using only the GET surcharge and hopes there will be a federal subsidy. So why front them more money, or give them a line of credit banking on assurances when our checkbooks are tapped out already? Why give them more money from that of which we do not even have to front from the onset?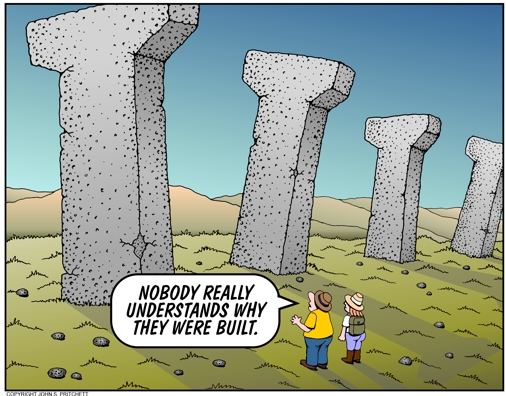 OUR RIGHT TO KNOW - VOTE TO LABEL FOOD WITH GMO'S A TIE - DOES NOT PASS
A huge crowd of testifiers gathered yesterday at Kapolei Hale to support resolution 12-57 and request support for the labeling of foods that contain Genetically Modified Organisms (GMO's). It was a simple request- just let us know if GMO's are in certain food products so we can as consumers, make our own choices.
The vote was 4-4, and 5 were needed for the reso to pass (Council member Chang was absent.)
We are going to rebound from this and keep the drive going to educate the public that we simply have the right to know.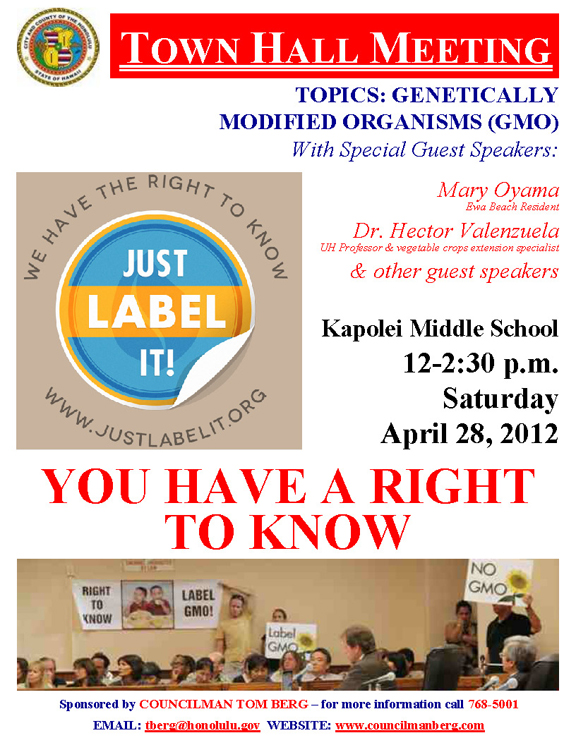 USER FEES FOR PARKS INCLUDES KOKOHEAD SHOOTING COMPLEX
Bill 60 - passed third reading yesterday and is on the Mayor's desk for the final decision. Per Bill 60 - if you use a park facility that requires an attendant be present after hours you will need to pay $15 per hour. I voted against the bill. What bothered me, was that clubs that use Kokohead Shooting Complex that bring their own trained, certified crew to run the range after hours, have to pay anyway to use the range even though no park attendant is even necessary for such end use. Furthermore, the monies collected go to the general fund and not back to the park . . . need I say more?
FARRINGTON HIGHWAY WORK ALERT
Honolulu Board of Water Supply
Media Advisory
Contact: Dymian Racoma
April 25, 2012
Telephone: 748-5366
TRAFFIC ADVISORY FOR FARRINGTON HIGHWAY IN NANAKULI FROM MAY 1-4
HONOLULU - The Board of Water Supply (BWS) will be closing the two center lanes of Farrington Highway in the Haleakala Avenue intersection in Nanakuli from Tuesday, May 1 to Friday, May 4 from 8:30 a.m. to 3:00 p.m. each day. A contractor will be making final service connections to the new 24-inch transmission water main along Farrington Highway .
Motorists are advised to please use caution while driving through the work area and to allow for extra travel time. A special duty police officer will be on site to help with traffic flow. Signs will be in place to notify motorists of the construction activity and lane closures. The waterline connection is part of the final phase of a water system improvement project to replace a 24-inch transmission line that carries approximately 60-percent of the drinking water into the Leeward Coast . For more information about this water system improvement project, visit www.boardofwatersupply.com or call the BWS Construction Section at 748-5730.