Having problems viewing this email? Click here to visit our web page and view the email.

ALOHA,
"Mad As Berg And Not Going To Take It Anymore" has become a rallying cry for many Oahu residents angry about the most expensive rail construction project ever built in the United States, and outrageous rail cost overruns that burn through rail contingency funds, as well as construction change orders and cuts to the city bus service - that many believe is directly tied to the vastly expensive heavy elevated railway that may end up costing $400 million per mile.
When West Oahu's City Councilman Tom Berg tried to ask questions in a City Council Budget Committee regarding why property acquisition for the rail had gone massively over budget - Councilman Breene Harimoto told Berg that his questions would be answered the next day in Harimoto's Transportation Committee. (At the 5:55 minute mark and again at the 6:45 minute mark in this youtube below- Councilmember Breene Harimoto - kept interrupting Councilmember Berg, saying that he could ask his questions the next day in Harimoto's Transportation Committee.)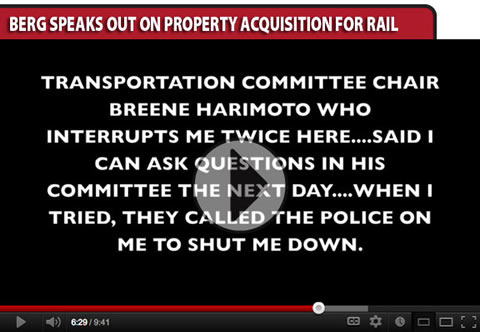 The next day when the Transportation Committee convened, Berg's questions were ruled as out of order, and Councilman Berg was determined to get the tax-payers some honest answers. In what most people now view as a setup, the next thing that happened was a committee staffer called the police to "control Berg" and effectively prevent any further questions and answers as to why huge amounts of HART funding was being kept secret from the public who are paying for the rail project.
Subsequent investigations by Hawaii News Now revealed that Berg's line of questioning was entirely in order. In 2006 the amount the city estimated it would originally pay about $70 million to purchase 215 full and partial properties along the rail route. That cost has now jumped to $222 million and TV news viewers were very surprised to see some properties the city has paid more than a million dollars to purchase.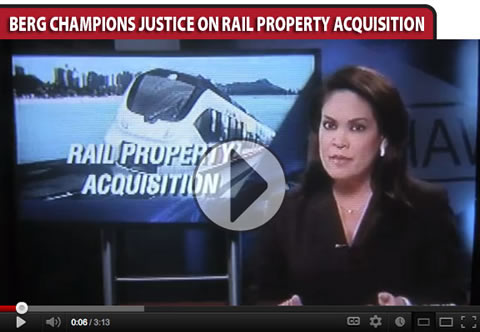 Another important issue in Hawaii is "Iwi kupuna," the bones of Hawaiian ancestors. The rail line is likely to run through many traditional Hawaiian burial sites.
"I have the largest constituency of Native Hawaiians on the planet in my district, and when I tried to get clarity on property acquisition on iwi sites for my constituents, Harimoto cut me off and refused to let me speak. He should be reprimanded for his perpetuating lies about this rail project and promoting the propaganda for it. Now that is the real travesty."