Having problems viewing this email? Click here to visit our web page and view the email.

ALOHA,

MEASURE TO KEEP BERG FROM EXPOSING THE SECRETS ABOUT THE RAIL CON JOB PASSES COUNCIL 7-1, WITH BERG THE ONLY NO VOTE
See the highlights in this short youtube I created just for you - Resolution 12-206 allows for the council to penalize a member by taking their pay. Got Intimidation?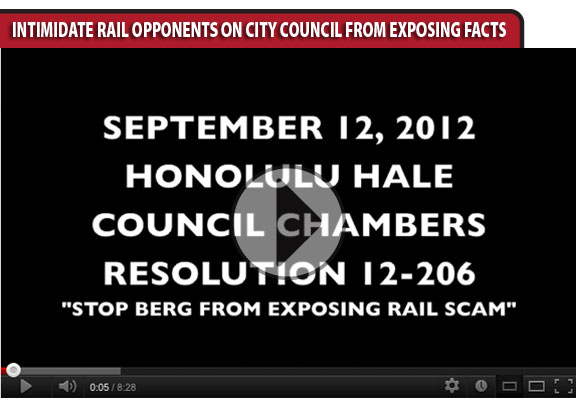 REVOLUTIONARY HOUSING MEASURE PASSES COUNCIL UNANIMOUSLY
The StarAdvertiser has a short blurb on this in today's newspaper. Our Resolution 12-74 CD1 is now in effect (with the Honolulu City Council passing my resolution unanimously yesterday) so now, farmers in West Oahu with 2 or more acres zoned ag land can initiate the request for additional workforce housing to enhance their farm operations.
CALL TO ACTION: RESTORE BUS SERVICE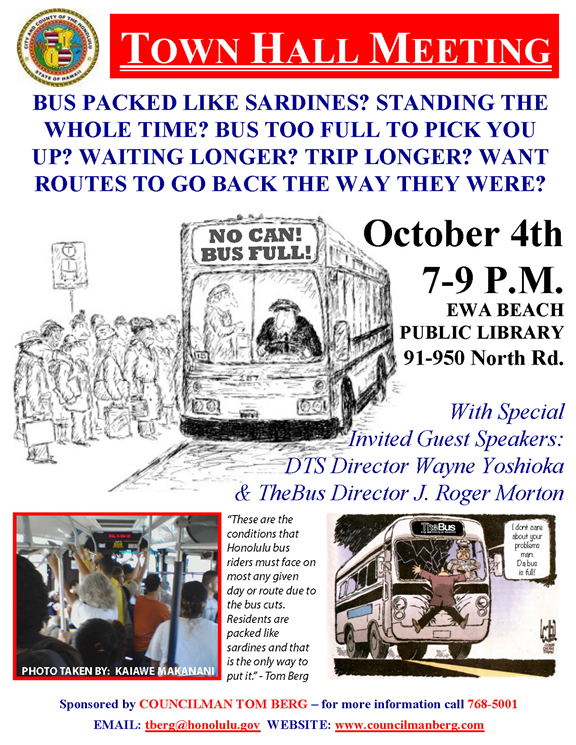 HEARING ON LANDFILL
September 14 - see details by clicking on agenda here.
SWAP MEET KAPOLEI
I have been asked to disseminate the flowing flyer for your information: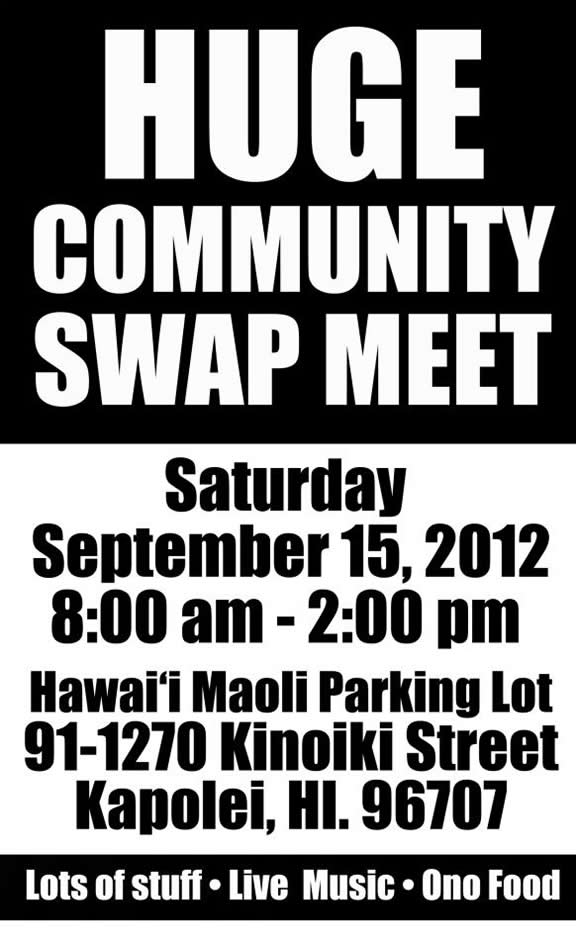 RAIL, ONE BIG HIDDEN AGENDA
In conclusion, the City Council refuses to release, publish, hear, disseminate, discuss, deliberate, or permit you to know the facts about rail . . . if you are short on time and want a quick peek on what is going on with rail that the City does not want you to know about - please watch my production - a video being aired on Olelo:
09/15/12, 10:00 pm VIEWS 54
If you cannot watch at the prescribed time - then click here to watch the full town hall meeting at your leisure.