Having problems viewing this email? Click here to visit our web page and view the email.

ALOHA,
CORRUPTION ABOUND ON RAIL
When our local government starts hiding facts that the federal government has an option available for us to put buses on the fixed guideway instead of rail . . . what do you want me to do? I made this youtube for you today to help educate folks on this simple fact, BUSES BEAT RAIL ON ALL FRONTS. Please share with your friends and family if you think saving billions of dollars is worthy and at the same time, getting a much superior traffic reliever/product to boot is of value to you.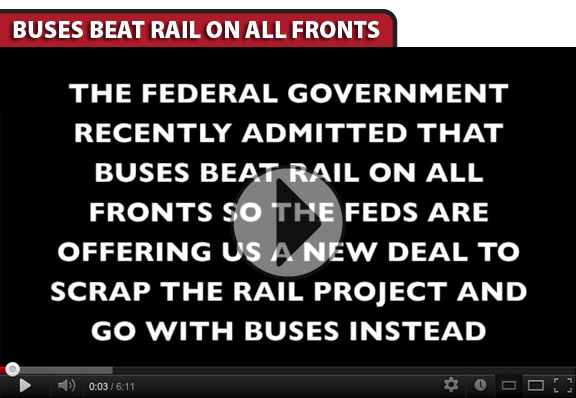 Here is an article of interest on the rail written by Randal O'Toole that provides details on rail ridership and energy use - click here.
PRESS RELEASE ON LANDFILL COMPENSATION PACKAGE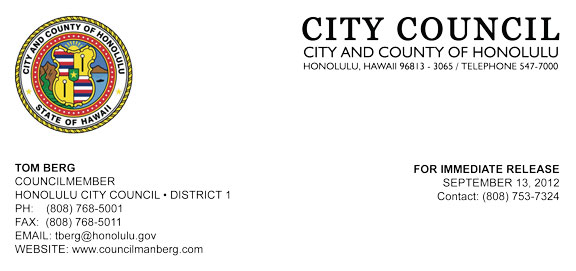 COMMUNITIES OF NANAKULI, WAIANAE & KAPOLEI EARMARKED TO RECEIVE $500,000 EACH FOR DISTRICT I PARK IMPROVEMENTS
The Kapolei, Nanakuli and Waianae communities have had to deal with presence of a neighborhood landfill that receives trash from the entire island of Oahu. Councilman Berg fought to reinstate $1.5 million for FY 2011 outlined in Ordinance 11-10 & $1.5 million outlined in Ordinance 12-19 for FY 2012, awarded as current expense in the Department of Parks & Recreation's (DPR) current expense budget, citing that all funds shall be expended for the provision of services, programs and other park-related activities. Each board will be allotted $500,000 each to provide for park improvements and services. Before Councilman Berg was even elected, 6 of 10 toxic waste sites on the island existed in District I and he believes these communities should be compensated for having to deal with so much rubbish. Thanks to Councilman Tom Berg and Director Gary Cabato, improvements to parks in District 1 have begun!
FY 2011-2012 improvement projects will consists of the following: Nanakuli Beach Park began facility renovations August 1 which are expected to continue for 90 days and reopen around the end of October. The park is one of several being beautified and plans include the changing out of old doors, rehabilitation of flooring and major renovations to update the property. In the craft wing, the middle room will be converted to a proper kitchen with ventilation and a rollup window allowing countertop access from outside. Waianae Complex Supervisor Jackie Spencer says they plan to offer cooking classes in the new kitchen space while last year's fund covered a new play apparatus.
The project to expand the Maili Beach parking lot plans to start soon, also increasing safety for residents by moving the entrance and exit to the traffic light. The beautification project is happening all along the West coast with installation of trees at certain parks and more picnic tables and benches. Puuohulu in Maili Beach Park, Kaupuni, Maili Beach Park and Pokai Bay all received new trees as part of the beautification process. The appropriation budget covers all of the summer fun programs, and the Waianae Summer Fun programs are free to the children here. Every manned park in Waianae from Nanakuli to Makaha runs three summer fun programs that are all funded by the appropriation. From 8:30AM-2:00PM, keiki ages 5-12 embark on adventures, various sports, music, craft classes and excursions available for free only to the children on the Leeward side thanks to these appropriation funds. The main thing they want for next year's budget, is security cameras.
FY 2012-2013 improvement projects will consist of the following: Installation of shade cover for play apparatus, installation of split air-conditioning unit and new energy efficient windows, as well as five park benches and six picnic tables at Kamokila Community Park. A Kompan Playful Apparatus, five park benches and six picnic tables at Kapolei Regional Park & the installation of five park benches and renovation of trash can liners at Kapolei Community Park at an estimated cost of $404, 404. The Waianae Board will be receiving Tree Trimming Services from Smalt & Co. for two cycles, costing $5,813; Archeological monitoring for Keaau BP cleanup by Pacific Consulting Services (PCS), Inc. at $24, 307; Archeological Services for Mauna Lahilahi also by PCS, Inc. at $52,634; Laptop Computers/Equipment by Dell at $17,604; Beautification Projects at Kaupuni Neighborhood Park & Pokai Beach Park and installation of picnic tables and benches estimated to cost $17,000; Park Users to include: Makaha Alii's Football, Sharks Football Waianae Tigers Football League will be receiving training equipment; Na Holo Kai & Na Keiki O Ka Mo'I Canoe Clubs will be receiving equipment supplies; Waianae Boxing Club will be receiving approximately $7,000 worth of sports equipment and supplies. The Nanakuli/Maili Parks & Recreation will be receiving beautification projects installing trees and water bags at Maili Beach Park & Puu O Hulu Community Park estimated to approximately $8,000; DSL Installation and Service provided by HawaiianTel for Nanakuli Beach Park & Maili Community Park costing approximately $6,600; Tree Trimming Contract for two cycles, $19,000; Leeward Kai Canoe Club will receive equipment/supplies costing approximately $1,100 & Nanakuli Pop Warner Football League will receive sports equipment/supplies costing $1,600.
EMERGENCY PREPAREDNESS FLYER TO SOLICIT YOUR INPUT
If you have ideas to strengthen our Council District One emergency operations plan, please consider letting my office know.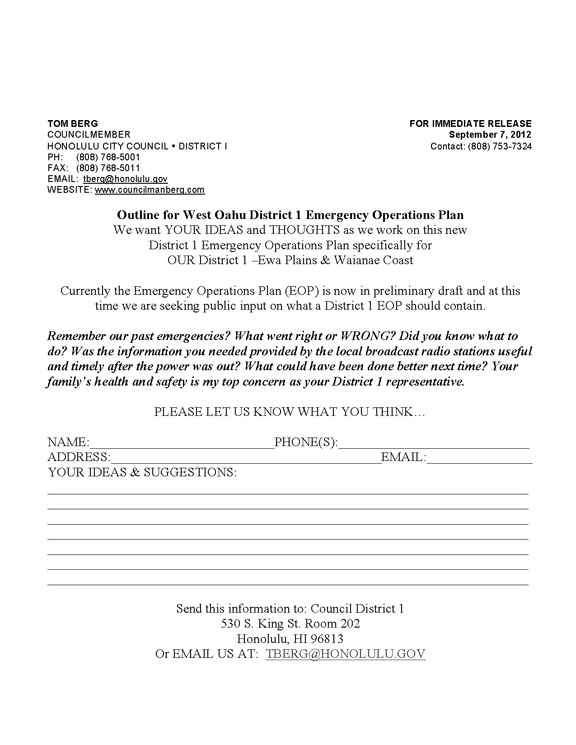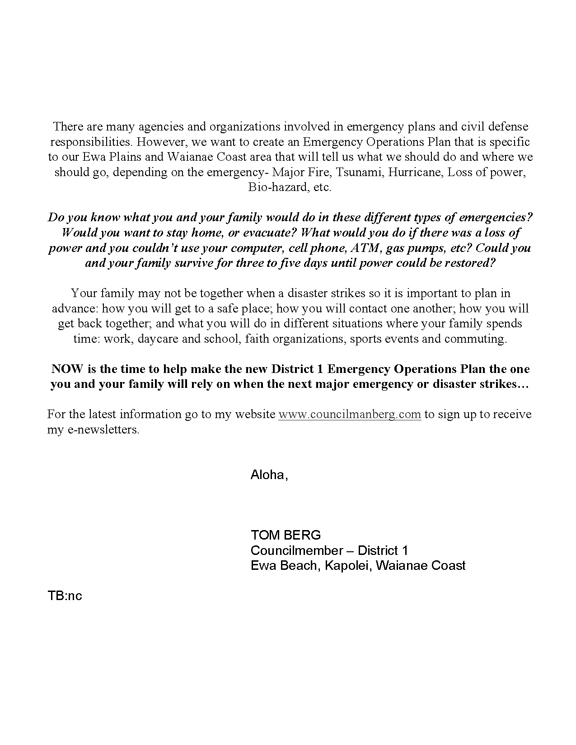 Island Heavy Rail Calamity: San Juan Repeats in Honolulu
Terrible transit and financial outcomes occurred in San Juan where population is much higher, and average income and car ownership is much lower than Honolulu's. The Tren (like history) is repeating itself in Honolulu. The deliberate discounting of history by current elected officials and certain candidates is truly bewildering.
Consequences of Tren Urbano:
* Huge escalation of construction costs (+74%).
* Huge escalation of combined bus and rail operation and maintenance cost after the line was opened (+250%).
* Downgrade of Puerto Rico's bond ratings.
* Dramatic decline of total transit ridership (bus and rail) because the Tren cannibalized their bus. This is happening to TheBus now.
* It is now more than five years since its opening and Tren has not reached 50% of its opening year forecast ridership!
READ MORE HERE.