ALOHA,
GE TAX FOR RAIL EXPOSES HYPOCRISY AT CITY HALL/VIDEO
Since it seems no one else is talking about the $9 billion price tag and 30 year duration of a rail surcharge tax to build the rail to Waikiki and UH Manoa as sold to us, I had to make my point that there is a better way and laid it out in the Transportation Committee to expose the hypocrisy. See the video here which after a few minutes into the hearing, the motive revealed behind the GE tax for roads.

RESO TO DETER ILLEGAL DUMPING/THEFT ON AG LANDS/HEARING MONDAY
My resolution to let private land owners with five acres or more grow families instead of weeds - to provide truly affordable housing for less than a car payment, will be debated this Monday. Resolution 11-54 CD1 will be heard at 9:00 a.m., October 10, at City Hall. See flyer for details and also go to www.councilmanberg.com for tv coverage and town hall meeting videos.
TASK FORCE TO RESOLVE FLOODING LEEWARD COAST/HEARING TUESDAY
Folks from Honouliuli to Makaha have been battling flooding for decades without resolve. Various jurisdictions between military, feds, state, city, and private landowners have prompted a "point the finger at someone else" syndrome and that has got to stop. That is why my resolution 11-203 is so important for the Leeward Coast to start and formulate a TASK FORCE between all parties so that the finger pointing stops and resolve kicks-in. Hearing starts at 9:00 a.m. at Honolulu Hale this Tuesday, October 11. See the agenda here.
WHY RAIL AWARD DID NOT GO TO LOWEST BIDDER/ HEARING THURSDAY
I introduced Resolution 11-248 to advocate we cancel the rail award of $1.4 billion to Ansalo and get a better deal and save hundreds of millions of dollars in the process. The reso will get heard again this Wednesday, October 12, at 9:00 a.m., so that a rail competitor - Bombardier, can testify in person why the procurement process here was in my opinion, a farce and fixed. See television coverage here.
HEARING ON ONEULA BEACH PARK AND GUN RANGE PROPOSAL/VIDEO
Why has our Oneula Beach Park in Ewa Beach of which master plan was approved of back in 2000, not received a penny from the City to improve it? Watch the Committee on Parks and Cultural Affairs video that covers the answers to Oneula and also covers my proposal to bring a GUN/PUBLIC FIRING RANGE to Kalaeloa - watch TV coverage.
LANDFILL COULD BE IN OUR BACKYARD FOR 15 MORE YEARS
I testified to the Planning Commission on Wednesday- October 5. See my testimony here.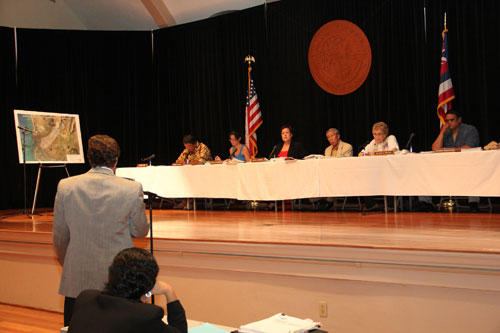 Photo depicts Tom Berg testifying before the Planning Commission 10/5/2011 to oppose the landfill extension.
Another hearing on the landfill is taking place this Monday at 5pm in the Mayor's Conference Room at Honolulu Hale. This is a really poorly written hearing notice. Rest assured I will also be there to testify and give them a dose of reason and object to the landfill expansion and other schemes they are doing to mastermind the landfill never go away in the Leeward Coast as it is a money maker for the city. See hearing notice here.

SUBMETERING YOUR WATER USE TO COMBAT WATER/SEWER BILL
I have a link for you to look at for more information on what submetering is all about- see here.
HEADS - UP ON UPCOMING BICYCLE RACE
There will be a bike race through Nanakuli to Maili Point and back to Ko Olina on Sunday, October 16th from 6:30am to 8:30am. There will be around 300 cyclist passing through. The RIGHT eastbound and westbound lanes will be dedicated to the cyclist. The Wai'anae High School JROTC cadets, will help with course marshaling along the course.
WAIANAE H.S. HOMECOMING FOOTBALL GAME
The students wowed the crowd with their talents - see short clip here. And next week Friday, Nanakuli High and Intermediate School Golden Hawks celebrates their 40 year anniversary (see certificate) and the homecoming game should too, be a great event to catch.
MONRAIL/MAGNETIC LEVITATION RAIL MEETING ON TELEVISION
Watch my television program, "FOR EWA TODAY" this Sunday at 6:00 p.m. on Olelo channel 54, that features video from the town hall meeting that covered Monorail and MagLev technology being better than steel-wheel-on steel-rail technology . . . hands down.
WANT A WORLD CLASS - PAINT BALL COMPLEX IN KALAELOA?
With the City and County of Honolulu to acquire some 580 acres of raw land in Kalaeloa, many have come forward with ideas to develop park lands without costing the tax payer any money- like a public gun range built and operated by the private sector, a Frisbee Golf Course, Military Vehicle Museum, Horse Trails, and now a world class PAINT BALL arena. I have introduced Reso 11-283 that will be heard this Tuesday at 10:30 a.m. at Honolulu Hale to discuss the potential of a paint-ball feature also run by the private sector to not cost the city money, but rather raise revenue for the city . . . another win-win land use proposal. Otherwise, watch those 580 acres grow nothing but weeds for decades to come unless we take action. See agenda.