ALOHA,
INSTANT TRAFFIC RELIEF WITHOUT TAXES OR CONSTRUCTION HEADACHES
I am offering the City Council two proposals to get the uninsured motorist off of public roads - Reso 11-308 connects certain data from insurance providers to police officers and Reso 11-307 implements a system that requires proof of insurance at the gas pump.
TOUGH LOVE ON CITY GOLF COURSES
If the city run golf courses cannot break even, then it is time to liquidate them or stop subsidizing their operations with our tax dollars. Residents on Oahu who pay a property tax, are subsidizing the game of golf by the tune of $10 million each year out of the city's general fund. The $10 million subsidy is above and beyond the millions needed just to maintain the courses and reflects the additional amount needed from taxpayers after all fees have been collected from golfers. My Reso 11-312 offers taxpayers a voice to prioritize where tax dollars should be spent.
COMBATING THAT SEWER/WATER BILL
A method to save money for those property owners that use a substantial amount of water that does not get treated as wastewater at the sewage treatment plant is on the horizon. Property owners should not have to go through such a tedious and expensive time consuming ordeal to install a sub-metering device that separates actual water use from sewer charges. I have proposed Reso 11-313 to safely streamline the process to install a sub-metering system for property owners that want to combat their sewer bill.
VEHICLE FEE INCREASES; HISTORY OF WHY - WHO - WHAT - WHERE - WHEN - AND HOW
For those of us that own and drive a vehicle, we have been getting clobbered with higher taxes for being on the roads and I have asked for a report to give us a history of vehicle taxes implemented by both the state and city going back three years - see report here. To top it off, I have included two short youtubes to exhibit the hypocrisy of how elected officials state they are against tax increases to build the roads that are needed to resolve traffic congestion but yet are in favor of tax increases to sustain the rail endeavor of which does not resolve traffic congestion.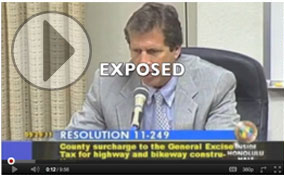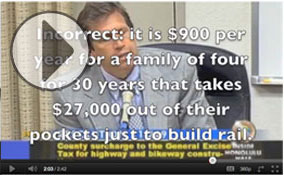 GET RAIL RIGHT WITH MAGLEV OR MONORAIL
Voters who want rail had no choice but to support steel wheels on steel rails in 2008 and this technology belongs in the Smithsonian already- a noisy heavy rail system that no city in America has built in thirty-years, so why build it here? Read my press release that reminds us how destructive and counter productive the State Legislature got when they prohibited us on Oahu from having any dedicated GE tax surcharge for actual traffic relief solutions such as bus rapid transit, reversible expressways and managed lanes.

I am offering the voters a choice with Reso 11-328 to mark YES or NO on the ballot in the 2012 election to scrap this 18th century steel rail behemoth and go with 21st century rail technology that is less expensive all around. MagLev is superior to steel rail on all fronts; easier to build and less costly to maintain, much quieter and less of a blight on the landscape, adopts electric energy use with less pollution, and such system able to add spurs to the main line that can climb hills and make turns that steel wheel rails cannot. Check out this link to see what Magnetic Levitation can provide us for our landscape and watch highlights in a video from our own town hall meeting that exposes the sad fact that we have been had by slick sales pitches promoting outdated plans other cities have gotten wise to: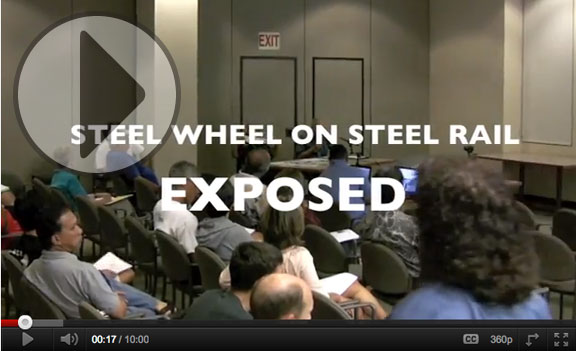 FULL COUNCIL COMING TO KAPOLEI HALE FOR DECISION MAKING ON NOVEMBER 2 - A RARE APPEARANCE
The agenda for the 10:00 a.m. calendar will have three measures on it that our District One office has authored and is lobbying for adoption by the full Council whereby your testimony is encouraged to make it happen:
1. Public Firing Range for West Oahu - Reso 11-263 CD1
2. Paintball Complex for West Oahu - Reso 11-283
3. Task Force to advance solutions for flooding on Leeward Coast - Reso 11-203 CD1 FD1

The 1:00 p.m. agenda includes Second Reading for Bill 50 which is the Waianae Sustainability Communities Plan.

BOWLING FOR BOOBIES/FIND A CURE
Watch snippets from a fundraiser held at Barbers Point Bowling center last weekend - see video pasted below:
HO`OPILI DEVELOPMENT- RECKLESS OR OVERDUE?
Why would we want to duplicate and compound the traffic nightmares on the Ewa Plain all over again and not take heed from our past mistakes that allowed thousands of additional new homes to be built before the infrastructure is in place? I offer a solution that both promotes Ho`opili and also ensures traffic gets addressed first in this development proposal. Please read my testimony to the Land Use Commission here.
EWA DEVELOPMENT PLAN- NEXT MEETING SET
November 1 @ Kapolei Hale @ 6:00 p.m. for presentation and January 11, 2012 public hearing before the Planning Commission - see email message here.
TESTIMONY DUE ON SOLAR PANEL FARM IN KALAELOA NEAR HISTORIC WWII FEATURES
Testimony is due by November 23. See notice and info here.
APEC - LINK TO GET THE SCOOP ON TRAVEL RESTRICTIONS and MORE
The online news publication CIVIL BEAT has put together a "survival kit" for us on how to cope with the APEC events here.

WAIANAE MILITARY CIVILIAN ADVISORY COUNCIL'S 30TH ANNUAL WAIANAE COAST VETERAN'S DAY PARADE
UPDATE - This event has been cancelled due to the fact that policemen could not provide their services due to APEC.
CLEAN-UPS AND RECYCLING EVENTS NANAKULI AREA
We are seeking volunteers for the following two clean-up efforts:
Saturday, November 19, 2011 - 8am-noon
Meet at Mikilua Store parking lot (87-1117 Paakea Rd # A)
To sign up as a volunteer, please contact Rep. Karen Awana at 586-8465
Saturday, December 10, 2011 - 8am-noon
This clean up will target Puuhulu stream, and will coincide with Nanakuli High & Intermediate School's "Aloha Aina Earth Day" recycling event to help raise funds for the school. For more information and to sign up as a volunteer, please contact Rep. Jo Jordan at 586-8460.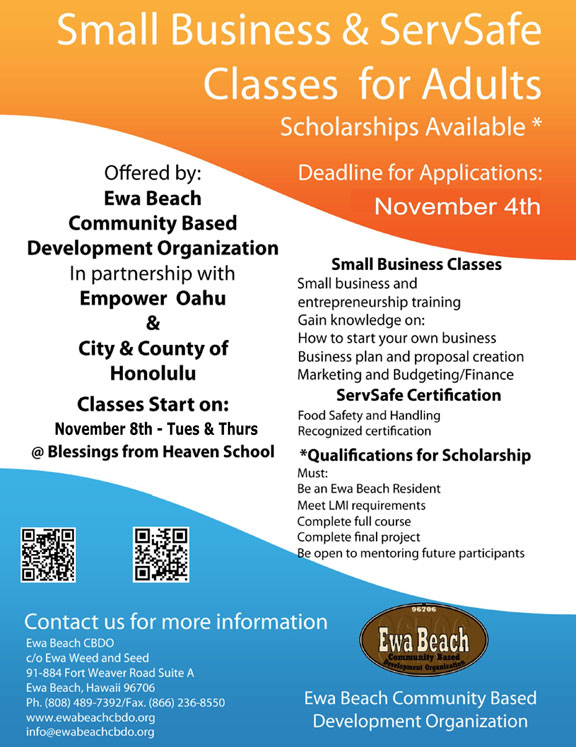 In closing, with all of the emails I am getting regarding proposals for development in Waianae and Ewa, I thought you might enjoy this video I made of a local band that performed recently in Kapolei - an original piece properly entitled with the phrase, "Talking About Country Living."