ALOHA AND HAPPY THANKSGIVING!
EWA DEVELOPMENT PLAN BEING DISCUSSED BY KAPOLEI/HONOKAI HALE/MAKAKILO NEIGHBORHOOD BOARD TONIGHT
To see tonight's agenda - click here. Albeit this message came to you late, I want to let you know I will be at the meeting tonight and I will give you an update of what transpires.
TESTIMONY ON KALAELOA RENEWABLE ENERGY PARK
Please consider reading my testimony submitted today - click here.
WAIANAE CHRISTMAS PARADE THIS SATURDAY
The parade will start at 10:00 a.m. from the Wai`anae Boat Harbor proceeding east on Farrington Highway through Wai`anae town and end by making a left at the Burger King driveway entering the Wai`anae Mall.
ROYAL HAWAIIAN BAND CELEBRATING 175 YEARS
Check out this youtube I made from the event last night whereby we sing Aloha `Oe :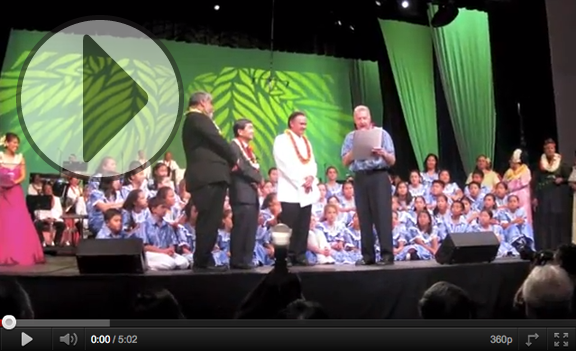 LEEWARD COAST FLOODING TASK FORCE
I recommend that if you want to be of party to the task force Reso 11-203 CD1 FD1 that the Mayor is to formulate, to email him at: mayor@honolulu.gov or call his office at: 768-4141.
ARTICLE ON RAIL GETS PUBLISHED
To make an analogy on this rail project, imagine you are at the check out line at the grocery store. You place numerous items on the conveyor belt- such as products like sewer upgrades, road repairs, road construction, sludge and landfill remedies and even a steel wheel rail system and so forth. In this example, government is playing the role of the cashier, and rings up your items. After seeing the bill, you may have decided to change your mind and determine you want to return a product or exchange one for lesser value. In my mind, we the consumer, the taxpayers, we have a right to change our mind and reassess our purchases and priorities.
So why is it that when it comes to this rail product, the cashier has taken a position of NO RETURNS, ALL SALES ARE FINAL, and forbids the consumer making the purchase and footing the bill from being able to return the rail product for something else that fits into their own budget? I thought the consumer is supposed to be in control here. That in our form of democracy, to my understanding, the people are to have the power and authority and most important, the right to dictate what they want to buy and just because they put something on the conveyor belt, the rules are being imposed by the cashier/government that you have to make the purchase regardless if you cannot afford it. If you have simply changed your mind about buying rail altogether, you cannot vote again - let alone make the return.
So in that vein, here is the article that both the Star Advertiser and the West Oahu Islander so graciously published recently - please click here to read it.
IN CLOSING, please share with me the understanding that not everyone can afford all the fixings and may be far from home and family for Thanksgiving. We are in control at all times to help others that are without and sometimes all it takes is for us to provide a smile and embrace for those alone and in need to make a difference when there may be nothing else to share. Blessings to you.