ALOHA,
LANDFILL SITE SELECTION MEETING POSTPONED
Where will the next landfill be situated? Today was to be the unveiling of that information but the meeting was cancelled. We are to be informed after the New Year's Day holiday when the Blue Ribbon Site Selection Committee will reconvene next and hold a meeting to deliberate its findings - and possibly make the announcement as to which community on our island will have a new landfill for a neighbor.
LANDFILL CONTESTED CASE HEARING
Mayor Carlisle's Administration wants the Waimanalo Gulch Sanitary Landfill to have its operations extended for another fifteen years beyond the July 31, 2012 shut down date as previously brokered
. . . this broken treaty syndrome to keep the landfill open after promises to close it must stop and the landfill shut down, period. The contested case will get underway on December 7 - see agenda notice here.
NEW RAIL VIDEO REVEALS THE VOTE TO KEEP YOU FROM CHANGING YOUR MIND. WHY?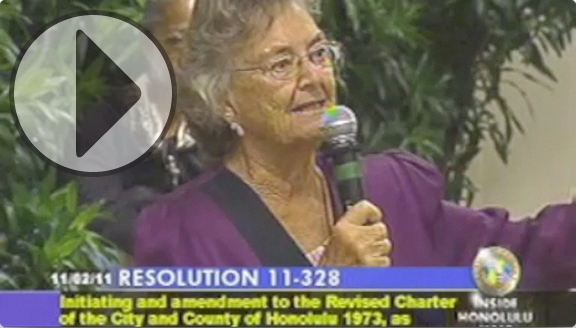 EWA DEVELOPMENT PLAN STATUS
The Kapolei/Makakilo/Honokai Hale Neighborhood Board held a committee meeting on November 23 to discuss the Ewa Development Plan. A motion was passed recommending that the board entertain a position to request the City hold off on adopting new plans - such as the Ewa Development Plan, until the Oahu General Plan is completed first.
RECYCLING EVENT AT KAPOLEI HIGH SCHOOL
Please consider joining our hard working staff from 8am to 2pm this Saturday, December 3, at Kapolei High School where we volunteer to process household items that can be recycled. Funds raised from the effort go toward the school's Project Graduation event. Drop by and unload those items gathering dust for a good cause. Go here or call 306-1876 for more information. Nanakuli Intermediate and High School is scheduled next for December 10.
VOLUNTEERS NEEDED FOR PUUHULU STREAM CLEAN UP ON 12/10/11
The clean up will be from 8am - noon on Saturday, 12/10/11, and will coincide with Nanakuli Intermediate and High School's "Aloha Aina Earth Day" recycling event to help raise funds for the school.  Volunteers should have covered shoes with thick soles, long pants, sun protection, and water.  For more information, call Rep. Jo Jordan at 586-8460.
PEARL HARBOR SURVIVORS HONORED IN PARADE
I had a cousin from the Chicago area marching in the parade and made a snippet of his high school band walking by my cameras. The 2011 Waikiki Holiday Parade that took place on November 25 will be nationally televised on December 7, 2011 on RFDTV. Seventeen mainland marching bands participated in the 2011 parade marking the 70th Anniversary of Pearl Harbor commemorations. It gave me chicken skin to see all those men that survived the attack on Pearl Harbor be applauded and heralded for the heroes they really are by the enormous crowd that was in attendance . . . we will never forget their sacrifices.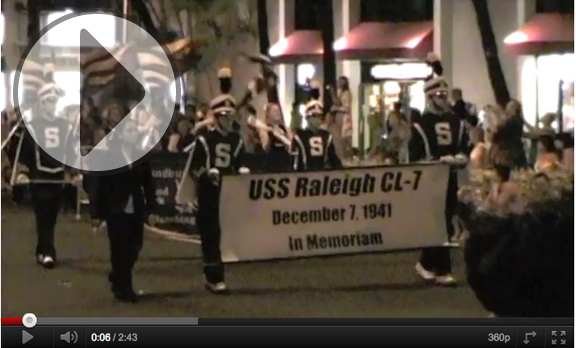 DUST ON THE LEEWARD COAST
I will be attending a follow-up meeting tonight put on by the Department of Health to report the findings of the study done to assess dust in the Nanakuli area. For more information, contact Maile Sakamoto, Public Relations Coordinator, at maile.sakamoto@doh.hawaii.gov or call 586-4344. The meeting starts at 6pm and will be held at Ka Waihona School Cafeteria, 89-195 Farrington Highway, Waianae. I will provide a report to you after the meeting in the next eblast expected to come out next week.
DECEMBER 7, 1941 - 70 YEARS LATER - DECEMBER 10, 2011 EVENT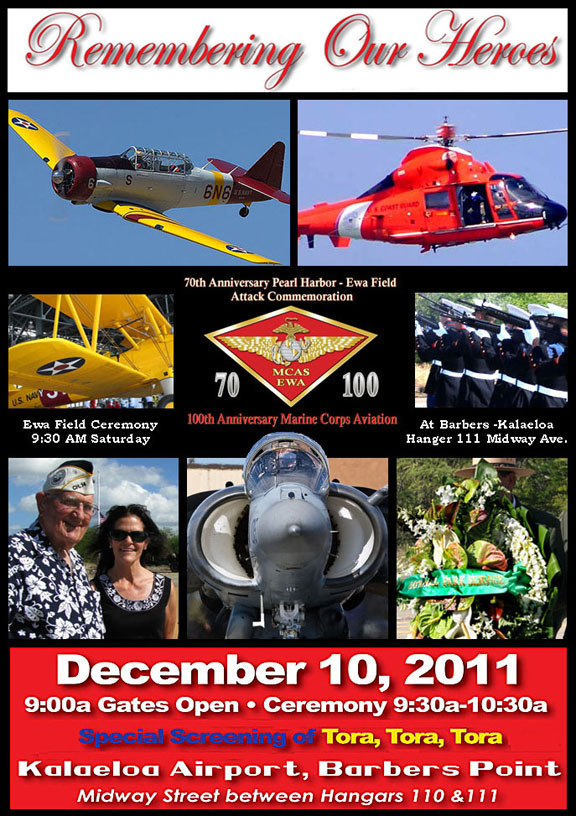 DECEMBER 7 CITY COUNCIL MEETING
Albeit the agenda is not yet posted, I am expecting our ONUELA BEACH PARK resolution 11-337 to be heard for adoption. Please come and show your support at the hearing or email me your testimony.

SOME RESOLUTIONS BEING INTRODUCED NEED YOUR INPUT
I provide inserts / supplemental handouts to my newsletters at all of our leeward neighborhood board meetings when giving reports and for tomorrow's November 30, Kapolei/Makakilo/Honokai Hale Neighborhood Board meeting, this is what I am passing out - click here.
IN CLOSING, please consider watching my monthly television series, "FOR EWA TODAY" that airs Mondays at 2pm on Olelo Channel 54 - which features numerous videos and happenings around town that you might have missed in the news. See you at the Ewa and Kapolei Christmas Parades around the corner!