Having problems viewing this email? Click here to visit our web page and view the email.

ALOHA,
THE CITY AND COUNTY OF HONOLULU'S EXECUTIVE MATTERS AND LEGAL AFFAIRS COMMITTEE BLOCKS GMO LABELING MOVEMENT PASSED BY KAUAI, MAUI, AND HAWAII COUNTIES
I have taken over three hours of testimony from the hearing Tuesday and condensed it into a ten minute youtube for your convenience . . . please watch this: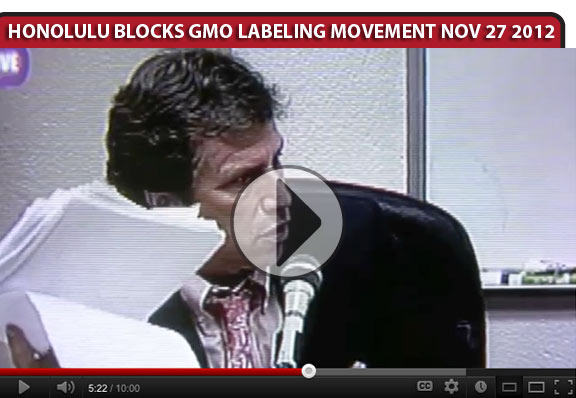 The Honolulu StarAdvertiser also published my letter to the editor to call on the public to get involved - read it below.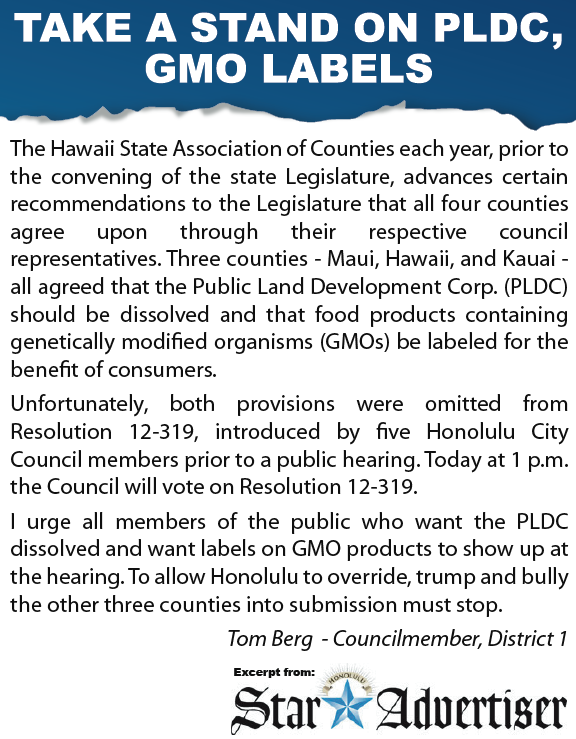 Even though not one testimony was presented that objected to labeling Genetically Modified Organisms (GMO), and rather 100% testified in favor of labeling, the committee went ahead and voted 5-2 against my motion to reinstate GMO labeling in the Hawaii State Association of Counties (HSAC) 2013 Legislative Package (RESOLUTION 12-319). The rest of the state has come forward and taken a stand. They had their county councils pass unanimously- the right to know what is in your food- label GMO initiative.
This will be the second year running, that Honolulu had blocked GMO labeling efforts - to get the State Legislature to have a hearing . . . the State Legislature has refused to even conduct a hearing on GMO production, GMO product labeling, associated health and environmental effects ranging from studies that include bee hive colony collapse to human ailments per GMO infiltration. I was the only vote last year requesting GMO labeling in the HSAC package- with the vote being 8 to 1. On Tuesday, the vote was 5 to 2, with myself and Councilman Breene Harimoto wanting GMO labeling- some members were absent from the vote. (Note: Councilwoman Ann Kobayashi seconded my motion to amend Reso 12-319 to include GMO labeling- but she had to leave before the final vote was taken.)
BUT WAIT, there is hope. Resolution 12-319 can still be amended on December 5 when the measure comes up for adoption at the full city council hearing. If you support GMO labeling, please come and testify - Honolulu Hale, 10:00 a.m.
Contact schools, farmers, all you can think of to help come and testify in person. Your RIGHT TO KNOW can start right here in Hawaii - and possibly create a tide for the rest of the nation to follow our lead.
For more in depth coverage on the matter - please go to my website: www.councilmanberg.com

GENERAL ELECTION
The Honolulu Weekly covered the resolution we passed to investigate the election follies - read it by clicking here.