ALOHA,
Click here for the agenda to see what will be discussed at this Wednesday, December 7, City Council meeting at Honolulu Hale starting at 10:00 a.m. - voting on important matters from banning and removing stored items on sidewalks - BILL 54, to the measure regarding GMO labeling of food products.
Please note we start at 8:30 a.m. with the presentation of Honorary Certificates and this month our office is providing gratitude to the great people at the Oahu Society for the Prevention and Cruelty to Animals - see the link to their website here and watch a video here I made recently on a site visit to their facility.
Please note we have the Resolution 11-337 on the agenda to request the Department of Parks and Recreation revisit the master plan for ONEULA BEACH PARK whereby the public can be heard to provide their input in to making the plan more appealing to end users. I will need your testimony and support for this so please contact me if you need assistance in delivering that message for the 7th.
TOYS FOR TOTS DRAWS HUGE MOTORCYCLE PARTICPATION
It was a real honor and chicken skin day to witness firsthand the good will and love for others that may be less fortunate over the holidays and provide a token to the Toys for Tots effort and ride a Hawaiian Chariot in the motorcade - see 3 minute youtube from the event below.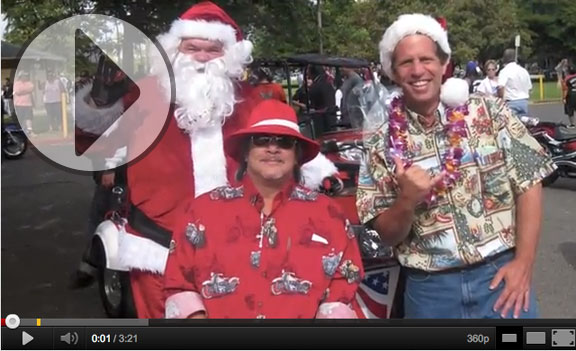 UPDATE ON MEETING BY DEPARTMENT OF HEALTH ON DUST IN NANAKULI AREA
To review the documents from the meeting held at Ka Waihona School on Nov. 29th - click on the report underlined: the Tetra Tech consultant report; the slide presentation; and the agenda/handout.
Please note that the report from Tetra Tech has two errors:
1. The Lualualei Naval Road is owned by the Navy. PVT does not have ownership of any part of the Lualualei Naval Road.
2. The location dot of the HECO Lualualei air station on Figure 2 is in the wrong place.
If you find any other technical errors in the report, please reply to me at maile.sakamoto@doh.hawaii.gov, and we will ask the consultant to incorporate corrections. Any updated versions of the report will appear on the website: www.hawaii.gov/doh/envplanning
KAPOLEI HALE CITY LIGHTS AND CHRISTMAS PARADE DECEMBER 10 @ 5PM
Click here for details and be sure to catch the Ewa Elementary School Chorus entertaining us along with the Royal Hawaiian Band.
IN CLOSING, check out my website for past e-mail blasts that highlight some other important activities happening around the corner.