Having problems viewing this email? Click here to visit our web page and view the email.

ALOHA,
NANAKULI COMMUNITY ROBBED
All the City Council had to do at its hearing on December 5, was defer Resolution 12-139 which would have allowed the Nanakuli community to gather and raise alternative sources of funds to develop the park in question. Many came forward to testify and even alerted the Council that they had found sources of money to do just that - advance the park concept. The City continued to take the position that it has no money to advance a new park on the Leeward Coast . . .yet, after a vote of 7-2 by the City Council to remove the PIM (Public Infrastructure Map) from the Waianae Sustainable Communities Plan, the same Council voted to advance a brand new concert hall to be built in Central Oahu.
Wait a minute here - you mean the same City that cannot even afford to adequately compensate the Honolulu Symphony to play at the Blaisdell Concert Hall, a facility that loses money . . . and the City wants to clone/duplicate another concert hall scenario with taxpayer funds for Central Oahu? Build a new concert hall in Central Oahu? There is NO MONEY the City said for developing a park for a community that is deficient in park acreage but there is money for another concert hall to serve Central Oahu?
See it here for yourself - over 2 hours of deliberations condensed into a ten-minute youtube: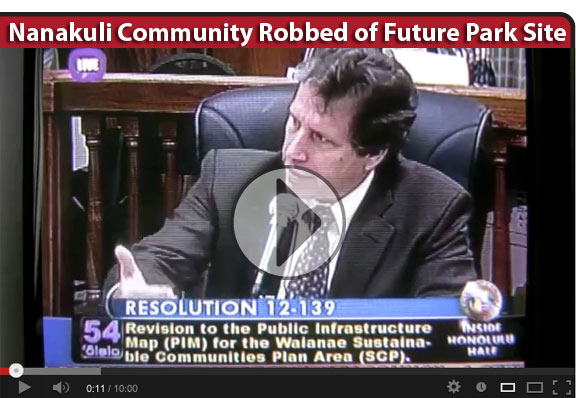 MAGNIFICENT SEVEN - RIGHT TO KNOW CHAMPIONS HONORED
My last opportunity to honor folks at a council hearing culminated with seven individuals who were recognized for seeking justice and championing the "just label it movement." In my two year term, I conducted six town hall meetings specifically on the subject of Genetically Modified Organisms. We met in Makaha, as well as out on farms in Waianae, at schools, and even held a symposium in town to educate the public that our right to know what is in our food is a just cause and should be the law of the land.
See highlights of the honorary certificate presentation in a short youtube here: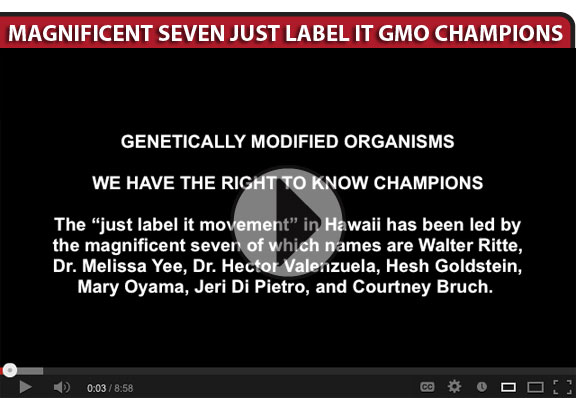 The complete list of honorary certificates that our office presented at council hearings - are: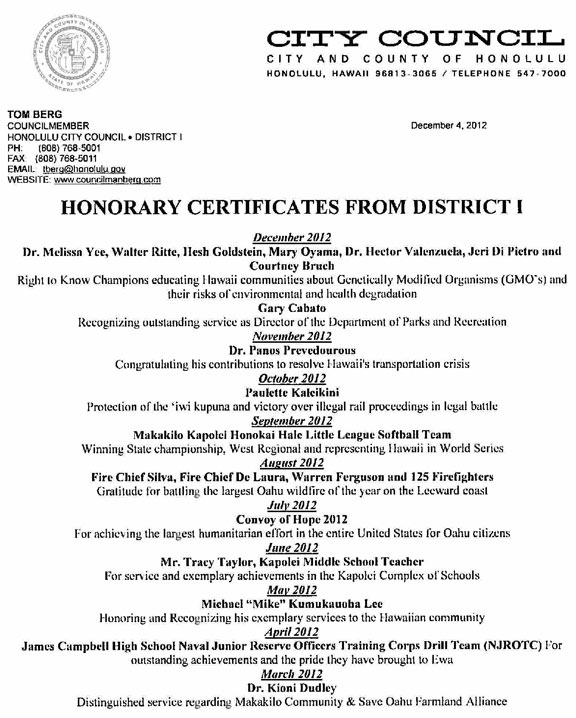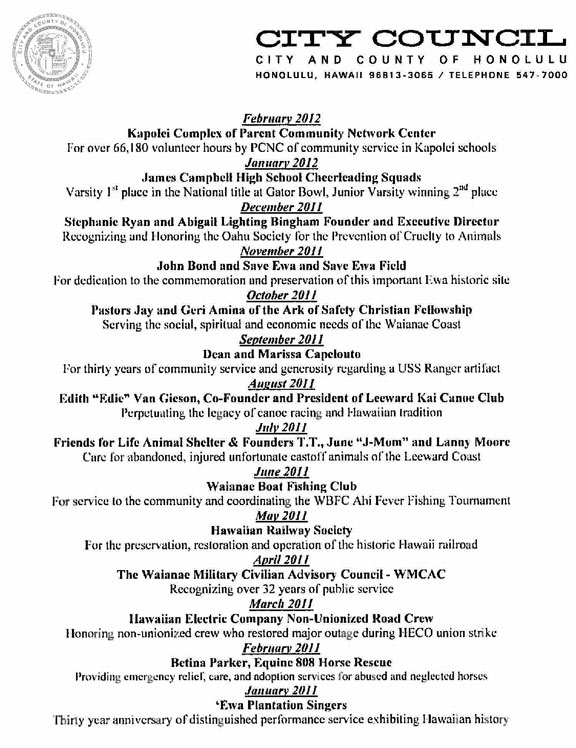 FIGHTING FOR ANIMAL RIGHTS
Even though Bill 57 died, we got the gist of its contents passed via Resolution 12-326.
In total, our office has championed the passage of 22 Resolutions in 23 months - and to see what we have accomplished together, please click here to review all of the resolutions we authored that passed. Resolution 12-326, was the only resolution that did not pass unanimously, but rather squeeked by with a 5-4 vote (all others passed unanimously).
FINAL TOWN HALL MEETING WILL COVER EWA DEVELOPMENT PLAN (BILL 65)
On December 19, from 7-9 P.M., at Kapolei Hale, our office will host a public discussion on the Ewa Development Plan- Bill 65. This blueprint for developing the Ewa Plain is paramount to all of us that live, work, and play in the region of Ewa/Kapolei. The MidWeek's West Oahu Islander publication covered the topic - and I recommend that if you are interested in future development for the Ewa Plain, to please read that article by clicking here.
HONORING PEARL HARBOR SURVIVORS
This past Saturday, it was an honor and a privilege to be at Ewa Air Field and listen to veterans (Pearl Harbor survivors at Ewa during the attack) tell their stories. Certificates were presented - we will never forget their sacrifices.