ALOHA,
HAWAII MEDICAL CENTER CLOSURES
There have been raids upon raids over the years by the Hawaii State Legislature to break promises and bleed monies away from the Hurricane Fund, Rainy Day Fund, and Highway Fund to sustain certain financial undertakings. Now, we have a real crisis on our hands and I would expect the State Legislature to take immediate action and do what it takes - Emergency Proclamation by the Governor if need be.
The State Legislature has bailed out hospitals before and funded them to keep them from closing. Read about what they did for Maui and and also read what they did for Kahuku.
So when is the State Legislature going to rescue us in West Oahu?
WILL THE WAIANAE COAST EVER GET A SECONDARY ACCESS ROAD?
As one of the 13 voting members on the Oahu Metropolitan Planning Organization (OMPO), I wanted to inform you in advance of my position to VOTE NO to the recommendation by the Department of Transportation to remove funding for a study that is to examine potential secondary access routes for the Waianae Coast.
On December 27, 2011, in room 309 at the State Capitol, starting at 2:30 p.m., I will defend and support the allocation for the expenditure ($1 million) that is to recommend the state Department of Transportation further examine and produce alternative routes for the residents of the Waianae Coast to consider.
This one way in and one way out syndrome for the residents of the Waianae Coast must be addressed. The proposal on the table is to cut the funding completely meant to study the alternative access route talked about for over a half of a century.
Please consider coming in person to testify, and or send in your testimony to OMPO by visiting their website (www.oahumpo.org) to review the Overall Work Program, or send your comments directly to me - tberg@honolulu.gov and I will ensure that your voices are heard.
See the agenda here, and the item I am voting NO on - is item listed as number II on the agenda: Consider Revision #2 to FY 2012 Overall Work Program.
TRANSPORTATION CRISIS WARRANTS NEW APPROACH TO MOTOR VEHICLE INSURANCE LAWS
The rail endeavor will not resolve our transportation crisis - this is a fact. So what are we doing about it?
This is where my two resolutions come in to play to remove the uninsured motorists from our public thoroughfares- possibly reducing traffic volumes by 15-20% without tax increases or construction headaches. To read my proposals, click on: RESOLUTION 11-307 and RESOLUTION 11-308.
Since my resolutions require State Legislature approval and the Legislature convenes next month, it is important that if you support the resolutions, to please request the committee on Safety, Economic Development and Government Affairs, chaired by Councilwoman Tulsi Gabbard tgabbard@honolulu.gov to schedule these resolutions for a hearing right away.
NANAKULI RESIDENTS SHOULD BE COMPENSATED FOR RAIL TRASH
I am requesting your support for RESOLUTION 11-349 and RESOLUTION 11-352 which are assigned to the Budget Committee chaired by Councilwoman Ann Kobayashi akobayashi@honolulu.gov to get a hearing.
All of the debris associated with tearing down properties to make room for the rail including the construction-demolition waste generated from the rail endeavor is to be housed at the PVT landfill in the Nanakuli area. If you think the residents in Nanakuli should be compensated for this, then please help me help them and request the resolutions aforementioned above get a hearing in the Budget Committee.
PROCEEDS FROM TICKET SALES TO HELP HAWAIIAN RAILWAY SOCIETY PRESERVE HISTORIC TRAIN OPERATIONS
Another year of volunteering - driving the children around the Pearlridge Holiday Express track - see short youtube clip below: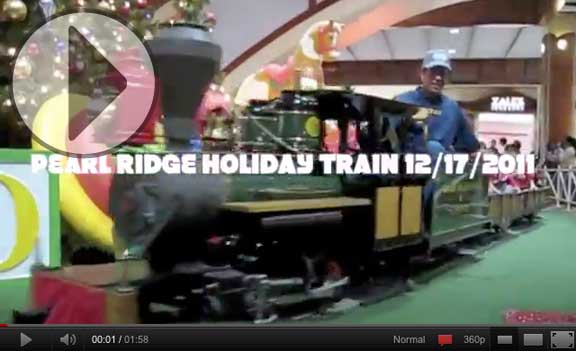 EWA VARONA VILLAGE CLEAN UP A SUCCESS
The cleanup was during the Ewa Beach Christmas Parade so right after the parade I ventured to Varona Village and caught them wrapping up and about to break bread - watch volunteers thanking each other after the clean up was over: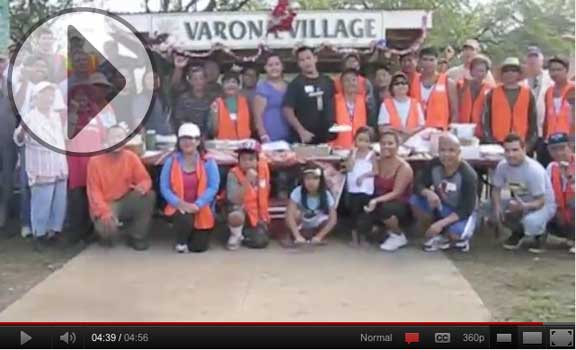 COUNCIL DISTRICT ONE'S REACTION TO MAYOR KILLING INITIATIVE TO FORMULATE TASK FORCE TO COMBAT FLOODING FROM HONOULIULI TO MAKAHA
Our RESOLUTION 11-203 CD1 FD1 was passed unanimously by the City Council but the Mayor and his Administration decided that more efforts directed toward mitigating the flooding conditions plaguing the residents living in the Makaha and Honouliuli areas was not warranted. I disagree with the Mayor's position and decided to write a letter that calls for public meetings so that the folks in Makaha and Honouliuli with flooding issues are not forgotten nor left behind.
EWA BEACH CHRISTMAS PARADE 2011 YOUTUBE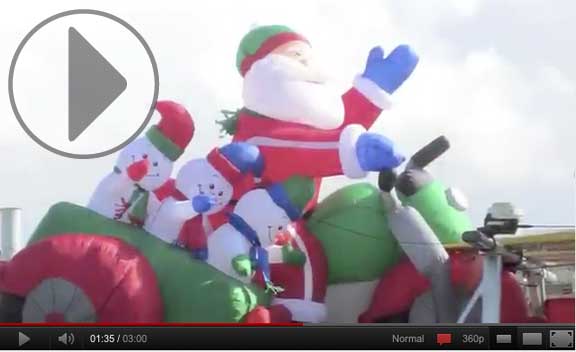 SECTION 106 PROCESS FOR KALAELOA
My staff and I have been attending the meetings that are to shape how the historic and cultural features in Kalaeloa are to be dealt with. There might be a meeting - location yet to be announced - for January 5 at 10:00 a.m. to further discuss the status of this land transition. If you are interested and want to get up to speed on what has been going on, please consider reviewing the following documents:

1. Programmatic Agreement
2. Attachment A
3. Attachment B
4. Attachment C
5. Attachment D
The contact for this matter is:
Ellyn P. Goldkind, RA
Historic Preservation Officer
Navy Region Hawaii / NAVFAC Hawaii
400 Marshall Road
Bldg. X-11, Code EV5
Pearl Harbor, HI 96860-3139
Voice: 808-471-1171, ext. 356
Mobile: 808-282-2510
Fax: 808-471-1160
Email: ellyn.goldkind@navy.mil
EWA RESIDENT RECOUNTS HISTORIC DAY
We had a youtube error on the posting of Ramsay Hishinuma's first hand account of the December 7, 1941 attack on Pearl Harbor on our last e-newsletter whereby Part II was inadvertently omitted. Here is the two part video resubmitted for your review below:

PART I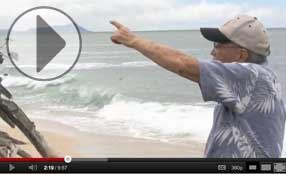 PART II