Having problems viewing this email? Click here to visit our web page and view the email.


ALOHA,
ONEULA BEACH PARK PUBLIC MEETING
I have confirmation from the Department of Parks and Recreation Director Gary Cabato that he will entertain our community's input on Saturday, January 14, 2012, from noon to 2pm, at Oneula Beach Park, regarding what changes we want incorporated into the Oneula Beach Park Master Plan - click here to view plan. Our resolution 11-337 was adopted at the City Council and now we are acting on it so your comments can be heard. Please pass this meeting notice on to all interested parties. MAHALO!

COMMENT PERIOD FOR MAILI BEACH PARK IMPROVEMENTS ENDS JANUARY 21, 2012
Please send in your comments to Daniel Takamatsu, Department of Design and Construction, City and County of Honolulu, 650 South King Street, Honolulu, Hawaii 96813 or by email: dtakamatsu@honolulu.gov
To review the Environmental Assessment - click here.

COMMENT PERIOD ENDS JANUARY 9, 2012 FOR REAL PROPERTY TAX RECOMMENDATIONS
Please consider reviewing the following communication - click here, that requests public testimony be submitted on the periodic review of the City's property tax classifications, exemptions, credits, and minimum tax rates.
PROJECT THINK
About thirty youth graduated recently from a program that gives them a new sense of direction. Please see the video I recorded from the second annual event held just last week: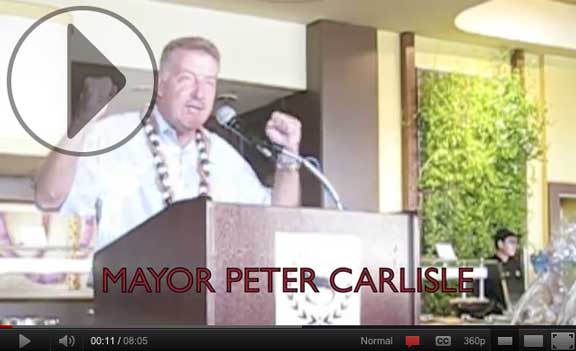 EMAIL; DISSEMINATING TEXT ON FAIR JANUARY 21- SEE BELOW:

Subject: Participate in the ReDiscover Ewa Beach Its People, Its Communities Fair on Jan 21, 2012 10am-3pm
Aloha,
As you may know, the Ewa Beach Community-Based Development Organization (CBDO) is a newly formed 501(c)(3) nonprofit organization that was established in order to help provide a stronger economic base in Ewa Beach and to improve the quality of life for its residents. One of its first projects, in partnership with Empower Oahu and the City and County of Honolulu and Leeward Community College OCEWD, was to offer Microenterprise Training Classes and ServSafe Food Safety and Sanitation Certification for low- and moderate-income residents who desire to learn how to establish and run their own businesses. (A microenterprise or micro-business is a small business of 10 or fewer employees.)
Our students have successfully completed their Microenterprise Business training as well as their ServSafe certification and now we look forward to helping them showcase their businesses through an economic development fair that we are promoting as our Ewa Beach CBDO ReDiscover Ewa Beach, Its People, Its Communities Fair which will be open and FREE to the public!
We are proud to host this fair to showcase not only our student businesses and also our existing Ewa Beach community's businesses, schools and organizations. The ReDiscover Ewa Beach, Its People, Its Communities Fair will be held on Saturday, January 21, 2012, from 10am-3pm at Pohakea Elementary School. We are currently looking for vendors, exhibitors, crafters, entertainers etc. to participate in our event for FREE. We would love to have you!
For more information please call Alex @ 384-8583 or via email at showproevents1@hawaii.rr.com.
In closing, have a great New Year and thank you for all of your hard work in 2011 to improve our community- your participation is valued and always appreciated.