Having problems viewing this email? Click here to visit our web page and view the email.


ALOHA,
JAMES CAMPBELL HIGH SCHOOL VARISTY AND JUNIOR VARSITY CHEERLEADING SQUADS HAVE SOMETHING TO CHEER ABOUT AT CITY COUNCIL
It was an honor to see one of the many James Campbell High School achievements in action yesterday - the latest, recognition for national awards in cheerleading. Read the unformatted honorary certificate language presented- click here. Watch a quick video highlight of their visit to Honolulu Hale in this youtube: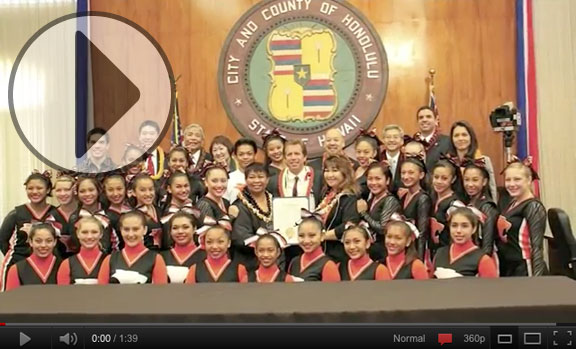 IF ADHERENCE TO THE LAW IS TO BE THE GOAL, THEN DRIVING IS A PRIVILEGE NOT A RIGHT
Our effort to get the uninsured motorists off of the roads has taken hold. Resolution 11-308 passed unanimously at the Council by a vote of 9-0 yesterday. When I worked at the State Capitol in the beginning of 2011- prior to my working at the City Council, I helped craft House Bill 1351 for introduction.
This bill if passed, would help get the uninsured motorists off the roads. HB 1351 is still alive and if passed by the Legislature, would have a greater impact on providing traffic congestion relief than rail would and cost under a hundred thousand dollars to implement instead of billions compared to the rail. No construction headaches, no tax increases, just using technology already available to us to get the uninsured off the roads with simple sharing of data between insurance providers and HPD. Please contact House Transportation Committee Chair Joseph Souki - repsouki@capitol.hawaii.gov and urge him to give HB 1351 a hearing.
WAIANAE SUSTAINABLE COMMUNITIES PLAN TO BE DECIDED AT KAPOLEI HALE
The Council will meet next on February 15 at Kapolei Hale starting at 10:00 a.m. Expected to be on the agenda for hearing - Third Reading - is the Waianae Sustainable Communities Plan. Third reading is the final vote on this measure - Bill 50.
NO TO USER FEES AT PARKS
I was the ONLY NO VOTE on Bill 60 and Bill 1 yesterday at the Council meeting because as it stands, fees collected at city parks from end-users would go back into the General Fund and not directly into improving/fixing the parks. This shell game with our tax dollars has to stop.
More importantly, no fee whatsoever should be applied to the Koko Head Shooting Complex - (now being imposed at a $15 per hour rate) when that activity is a safety issue and constitutional right we should be able to exercise without impediment.
Yet, the City charges the taxpayers $10 million a year to subsidize the game of golf at the six municipal courses on Oahu. Why doesn't the City just charge golfers at a rate that would amount to break even instead of taking $10 million out of the General Fund to keep the courses afloat?
Read my reso urging this tax re-prioritization maneuver - click here.
In my opinion, firing your weapon is a constitutional right. New user fees that are to be applied to us for using recreational facilities should undergo more scrutiny, oversight, and public input at City Hall before being implemented - if at all. Should you pay a fee to the City for using the beach, playing soccer, playing tennis - shooting your weapon?
NO TO FEEDING LAWYERS AT THE PUBLIC TROUGH FOR RAIL MAYHEM
I VOTED NO yesterday to resolution 12-19
that approved another $400,000 to lawyers for them to play games with our tax dollars in the City's misguided pursuit to defend rail as it stands. It is in my opinion, that the Environmental Impact Statement (EIS) conducted for the rail was not done in a manner to thoroughly and properly consider monorail, magnetic levitation, and rubber tire on concrete technologies.
The lawsuit by honolulutraffic.com contends a supplemental EIS should be executed to revisit and look at other technologies.
Why I believe the lawsuit by honolulutrafiic.com - with plaintiffs Governor Ben Cayetano, Senator Sam Slom, Judge Walter Heen, Professor Randall Roth and Cliff Slater will prevail against the City - is partly contained in this press release-click here.
For the City never even examined utilizing Urban MagLev as a rail option for us- which is superior to steel rail on all fronts, and truly 21st century technology. I have more on this subject including videos on my website: www.councilmanberg.com
The City stated Urban MagLev - which is a form of rail technology, cannot be built here because only Japan has the technology to build it. This is not true. How did China then build their Urban Maglev system as the press release illustrates? Answer, they used technology from Germany from as far back as 2002. And two companies in America build this system too.
South Korea is doing MagLev as well and not going with 18th century trains like we are. However, when our expert panel was comprised to look at rail technology for Oahu, not one of the names to choose from to be on that expert panel had any knowledge or experience building Urban Maglev technology - 4 of the 5 panelists were all making their living off of pitching steel wheel rail technology.
Urban Maglev is almost half the price to build compared to steel wheels on steel rails, uses less energy than steel wheels, is greener for the environment, is much less of a blight on the landscape than steel wheels- has a much smaller footprint (4-foot diameter pillars as opposed to 8-foot for steel rail), and is much less in costs to operate and maintain. Not only is Urban MagLev quieter than steel wheels to operate, maglev can go up and down hills and make sharp turns that steel wheels cannot and thus avoid impacting Iwi and Historic Structures along the route.
So why did the City dismiss even looking at Urban Maglev? A judge will soon tell us. But unfortunately, this will not happen until well after over a million dollars has been spent in legal fees for the City to cover up for its ramming steel wheel technology through - which is the most expensive, noisiest, archaic rail technology we could deploy. No other city in America has built what we are building in the last 30 years for a reason.
And for all of you that do not want any form of rail, please note that ACT 247 (HSL 2005) prohibits the GET surcharge to be used for highway technology-managed lanes or Bus Rapid Transit - or any type of toll road. It was rail or nothing else - a fixed fight from the start to force steel rail upon us - again, the most expensive and outdated form of rail on the planet.
SEWER AND WATER RATES TOWN HALL MEETING TONIGHT
For those of you who cannot make tonight's meeting at Kapolei Hale at 6PM, here is the handout we will be passing out - click here.