Having problems viewing this email? Click here to visit our web page and view the email.

ALOHA,
RESTORING CITY BUS SERVICE: HEARING THIS WEDNESDAY
KITV highlighted resolution 12-177 in its news coverage yesterday. This reso was introduced to restore city bus service without raising fares. See the news story - click here.
Resolution 12-173 is another attempt at restoring bus service and was also covered in the news on KHON - click here for that story.

Both resolutions will be heard in the Budget Committee this Wednesday. For the agenda, please click here.
A big mahalo to Council Chair Ernie Martin for co-sponsoring these resolutions with me and to Budget Chair Ann Kobayashi for scheduling them to be heard.
RESO TO HALT HART PUBLIC OUTREACH: HEARING THIS WEDNESDAY
Yes, HART has cut its public outreach by 70% - from 24 entities making over $4 million a year, to 9.5 positions . . . but I contend that only one position is needed for public relations and that resolution - 12-160 will be heard in the Budget Committee this Wednesday.
Rail is not even operating yet. So why are 9.5 positions still on the payroll to pitch and sell rail - to force-feed us pure propaganda? All HART needs to do at this stage is let us know when and where construction is going on and one person can convey that to the public, period.
Please consider testifying and offering support - click here for agenda.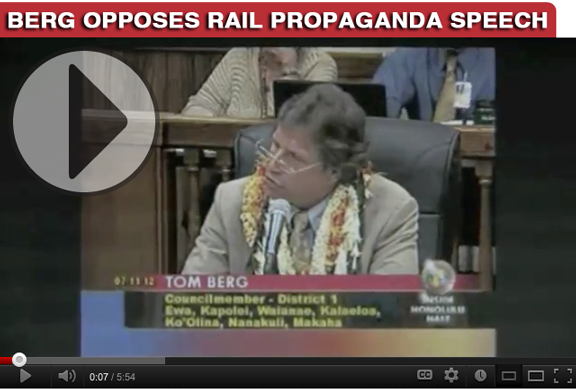 HISTORIC TRAILS RESOLUTION FOR EWA PLAIN: HEARING THIS TUESDAY
I introduced resolution 12-172 to stimulate awareness of historic trails in the Ewa Plain area. If the resolution passes, it will serve as a trigger to garner federal grants and awards for preservation and public use.
Please click here for the agenda.
WHAT'S THE BUZZ ABOUT THE BEES?
I introduced resolutions 12-130 and 12-138 to address the plight of our bees. Are GMO's the culprit? Come to my next town hall meeting this Tuesday- see flyer below for details.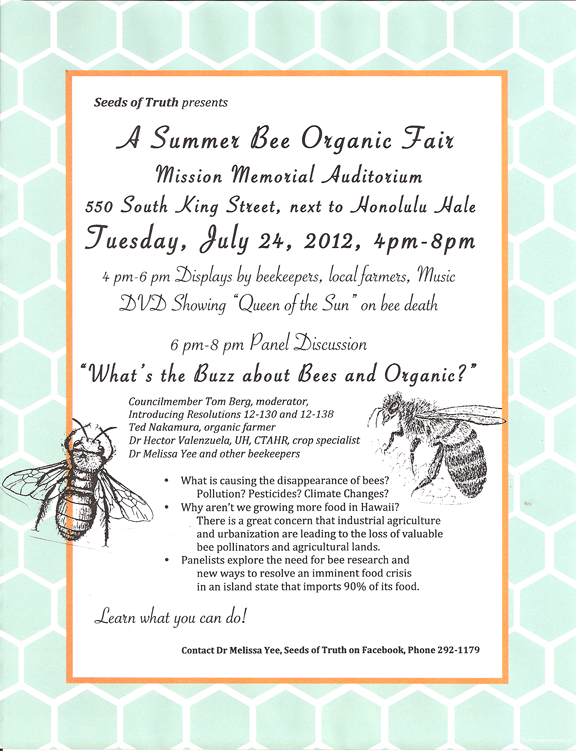 TITLE OF ARTICLE MISSING ONE WORD CHANGES EVERYTHING
The Hawaii Reporter published an article I wrote yesterday and the title of the article is missing one word . . . click here for the article.
Rail Does Preserve or Protects Oahu's Open Spaces . . . not true. The title was supposed to read: Rail does NOT preserve and protect open space.