ALOHA,
PU`ULOA FIRING RANGE 1000 YARD DEDICATION
Our United States Marines Corps enhanced their firing range in the area of Ewa Beach referred to as Pu`uloa and they hosted a dedication ceremony to bless the grounds and those that are to teach and train there. Please consider watching a video of the ceremony I put together.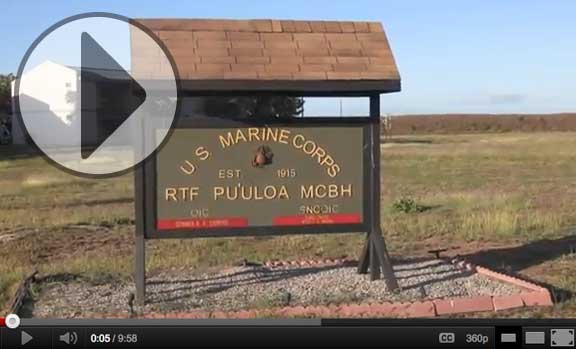 EWA PLANTATION SINGERS, SHRINERS BAND & MAJOR JOHN HUGHES USMC RETIRED AT PEARL HARBOR COMMEMORATION CEREMONY
The 70th Anniversary of the attack on Ewa Air Field/Pearl Harbor - a ceremony was held on December 10, 2011 that featured many veterans, volunteers and performers who gathered at the Kalaeloa Airport to honor and remember the sacrifices. Please see some snippets of the event I made in the youtube below.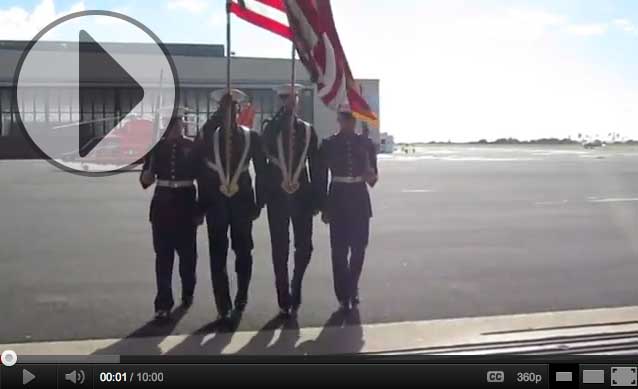 I made a video documentary of local historian John Bond interviewing Ramsay Hishinuma. Ramsay was a resident of Ewa and during the attack on December 7, 1941, he was camped out at Haubush/Oneula. In this two-part video, Ramsay shares what he woke up to and saw that day.
EWA BEACH NATIVE HAWAIIAN HISTORY with MIKE LEE ON SITE AT ONEULA BEACH AREA
A gathering took place on December 12, 2011 at Oneula Beach Park and vicinity to discuss issues relating to development of the area - see the SIX PART video series I compiled below of the presentation provided by Mike Lee.
DISTRICT ONE STAFF HOLIDAY GREETINGS
Our office has participated in the holiday festivities held in Waianae, Kapolei & Toys for Tots motorcycle rally through Waikiki and helped volunteer for the Honolulu Hale parade to celebrate the Christmas spirit and share our good will to all. We give thanks and continue the drive to help those in need. Happy Holidays from Council District One staff - we are here to serve.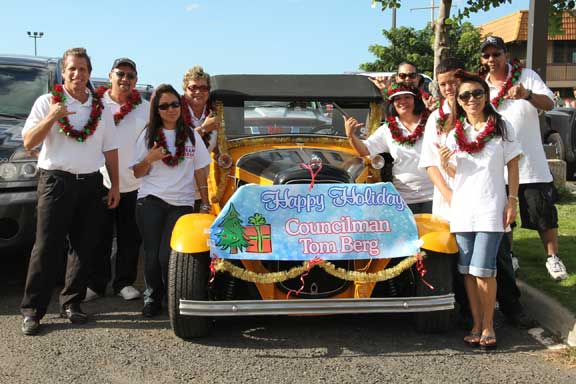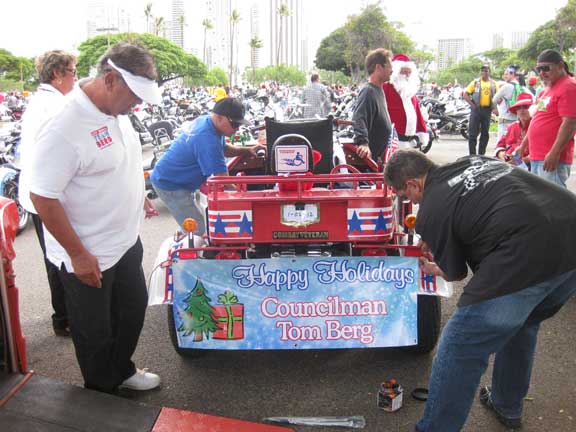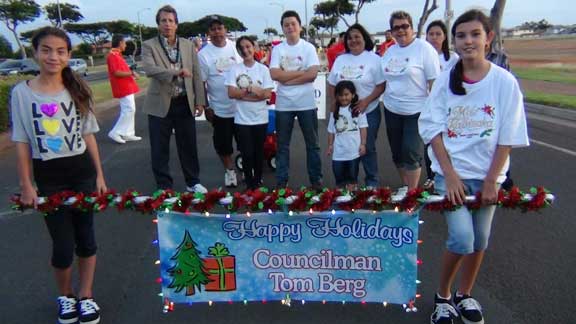 EWA BEACH CHRISTMAS PARADE THIS SATURDAY
All are welcome on Saturday, December 17, to come see the parade featuring Santa and his sleigh that will start at 10:00 a.m. near the Ewa Beach Shopping Center/Boys and Girls Club.
NOTE: I am volunteering again this year at the Pearl Ridge Shopping Center to raise funds for the Hawaiian Railway Society by driving the Pearl Ridge Holiday Train around the tracks starting at 4:30 p.m. on December 17. Hope to see you there.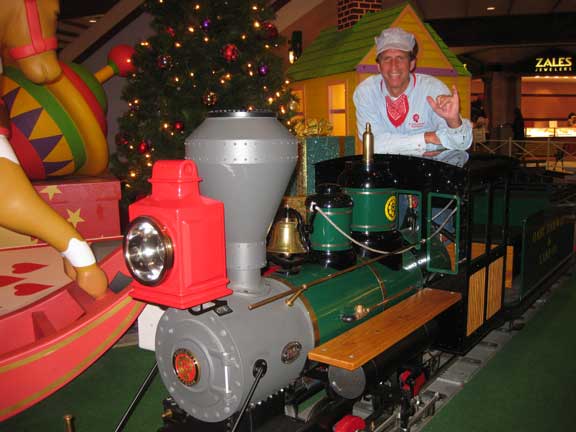 PRIDE & POINTER BALL FIELDS UNDER SCRUTINY
Environmental concerns have been raised prompting these two parks situated in Kalaeloa to close on December 31 until remedial measures have been executed. The following document - click here - is of reference that gives some history to the matter. I have been in contact with all parties and seeking ways to keep these parks open. Stay tuned for updates.
TOWN HALL MEETING ON RAIL TO BE ON TV
The meeting we had on December 6 to get pro and con rail folks in the same room to square-off and field questions from the public was recorded for television. The meeting was a success proving superior traffic solutions including other rail systems like Urban MagLev were and are available at far less of a price. OLELO will be providing the airdates soon and the video will also be posted on my website after editing is completed.
MY NEXT TOWN HALL MEETING will focus on our water and sewer bills and to find a strategy to combat the increases. Invited are the Board of Water Supply and Department of Environmental Services personnel to field questions. The meeting is tentatively scheduled for January 26, from 6-8:30 p.m. at Kapolei Hale.
FRIENDLY REMINDER: NANAKULI - MAILI NEIGHBORHOOD BOARD IN RECESS FOR DECEMBER
Next meeting is scheduled for January 17, 2012.

EWA VARONA VILLAGE CLEANUP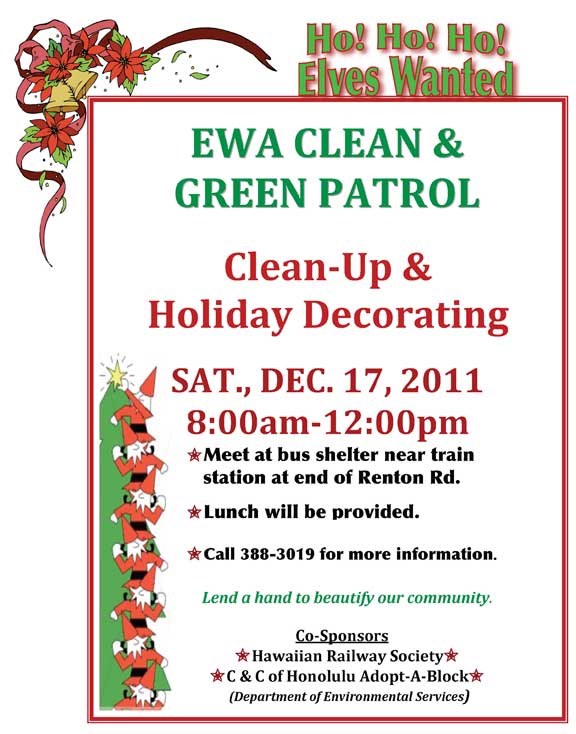 RENEWABLE NATURAL GAS PLANT DEDICATION
On December 15, a new initiative took place in West Oahu whereby The Gas Company has successfully embarked upon transforming sustainable sources- non-food-grade oils and fats- into clean, reliable gas for cooking, water heating and clothes drying. Check out the youtube I made to document this historic event.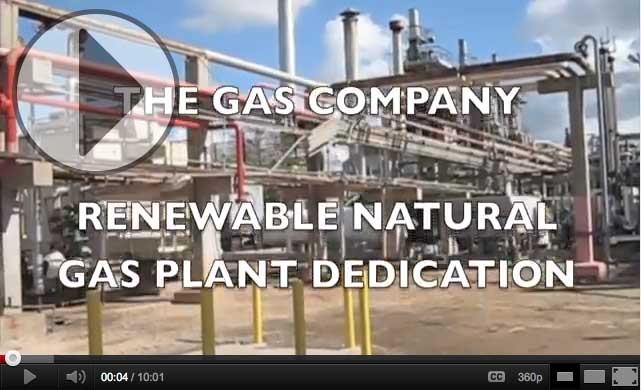 EWA VILLAGES - WHO WILL FIGHT FOR THEM TO REMAIN WHOLE - WHY DID THE MAJORITY OF COMMISSIONERS DIVIDE THIS HISTORIC COMMUNITY?
Here is an email I received today from Ms. Bernice Mau, Honolulu City Clerk:

The Report and Final Reapportionment Plan of the 2011 Council Reapportionment Commission for the City and County of Honolulu has been filed this morning with the Office of the City Clerk. The challenge period starts today and ends on January 30, 2012 (within 45-days after the filing of the plan).
I have attached a copy of the report without the attachments for your immediate review. The entire report and plan will be processed and downloaded into DocuShare and placed on our Elections website on Monday, December 19.